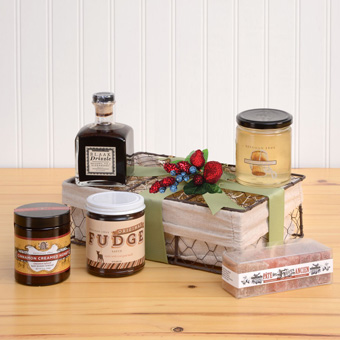 Enlarge Image
Best of Beekman Gift Box
It would take a great deal of soul searching to choose just one favorite product from Josh Kilmer-Purcell and Dr. Brent Ridge, a.k.a. The Fabulous Beekman Boys. So we cheated - just a little - and chose five for inclusion in our carefully curated selection of customer favorites from Beekman 1802.
A little bit sweet and a little bit savory, this impressive collection begins with Balsamic, Fig & Elderberry Blaak Drizzle - a lovely, beautifully bottled gift on its' own, and unbelievably good drizzled over fresh greens, roasted meats, and even vanilla ice cream. Delicate and exquisitely flavored Champagne Jelly makes a perfect pairing for triple crème cheeses or your morning toast, and intensely fragrant Cinnamon Creamed Honey begs to be spread on warm, buttery toast or stirred by the spoonful in coffee or tea.
Discriminating chocolate lovers will appreciate Beekman's original Goat Milk Fudge Sauce, an addictive hot fudge sauce made from pure, farm-fresh ingredients. Last, but definitely not least, are Pate des Fruits Ancien, jellies of old-fashioned fruits hand-cut in to gorgeous individual candy squares. In flavors of Gooseberry, Elderberry and Tart Cherry, who can resist?
Those who know and appreciate the quality of Beekman 1802 products will be impressed with this stellar assortment. And those who don't will be most grateful for an introduction to some of the finest tastes on the continent. This is an ideal gift for anyone with discriminating tastes and an appreciation for premium, thoughtfully produced foods.
Beekman 1802 - Balsamic, Fig & Elderberry Blaak Drizzle
: A reduction of balsamic vinegar, figs, and New York state elderberries, to be enjoyed drizzled over grilled meats, cheeses, salads, fresh fruits and vanilla ice cream.
8.5 oz.
Beekman 1802 - Champagne Jelly
: A delicious accompaniment to soft, pungent French cheeses, fois gras, charcuterie or baked goods.
10 oz.
Beekman 1802 - Cinnamon Creamed Honey
: From pure, raw honey harvested on the Beekman 1802 farm, blended with fragrant cinnamon. Delicious on warm, buttery toast or stirred into tea or coffee.
9 oz.
Beekman 1802 - Original Goat Milk Hot Fudge Sauce
: Made the old-fashioned way, by hand, with farm-fresh ingredients, premium chocolate and real sugar. A smooth, tangy, chocolate-y taste.
9 oz.
Beekman 1802 - Pate des Fruits Ancien
: From a small candy maker who makes and hand-cuts these fruit jellies the traditional way, using real flavors and juices from "antique" fruits - Gooseberry, Elderberry & Tart Cherry.
Nine 1.5" x 1.5" x .5" squares, 3 of each flavor
CONTAINER:
Wire lidded box with Linen Lining, 11" x 6.75" x 3.5"
**A Note on Substitutions:
Because many of our items are made in very small batches and some are made to order, we may need to occasionally swap an out-of-stock item for a similar one. Be assured it will be of equal or greater value and equally delicious!
.
SEE MORE