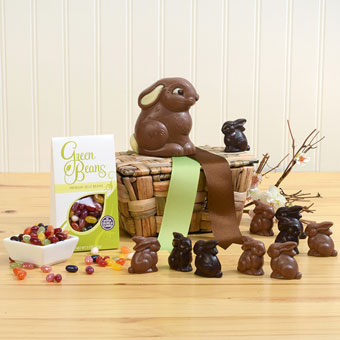 Enlarge Image
Bunnies and Beans Gift Tote
SUMMARY
CONTENTS
SHIPPING
Two favorite Easter candies come together in one charming gift!
Our reusable jute tote features a herd of baby chocolate rabbits - 5 milk and 5 dark - watched over by a mama bunny from EMVI Chocolates. And, because bunnies don't always eat carrots, we've included a generous bag of all natural jelly beans....our take on the perfect rabbit food!
EMVI Chocolates - Miniature Bunnies:
Adorable chocolate Easter bunnies handcrafted in upstate New York from premium chocolate.
5 dark and 5 milk miniature chocolate bunnies
EMVI Chocolates - Chocolate Bunny:
This precious semi-solid bunny is handcrafted from premium chocolate in upstate New York. Please specify milk or dark chocolate.
5 oz.
Marich Confectionery - Green Bean Jelly Beans:
Made with fruit juice concentrates and colored with natural fruit and vegetable extracts for a pure, delicious treat!
10 oz.
CONTAINER:
Small Natural Juttee Tote
This item is sensitive to heat and should not be in transit for more than 2 days during periods of warm weather - typically April 15 to October 15, or when shipping to a hot destination. When estimating days in transit, please exclude shipping date and weekend days. Heat sensitive orders placed after 12:00 pm CST on Wednesday will be held for shipment until the following Monday.
Questions? Call us toll-free: 877-426-4887
.
SEE MORE