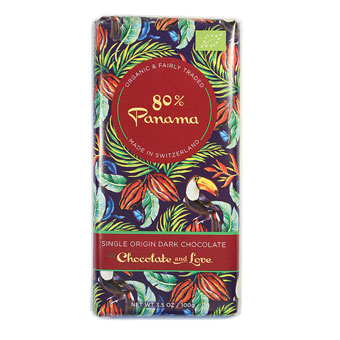 Chocolate and Love Organic Panama 80% Dark Chocolate
Weight: 3.5 oz
Out of Stock

Family Owned

Gluten Free

Organic

Switzerland

Fair Trade

Award Winning
SUMMARY
INGREDIENTS
THE STORY
SHIPPING
From single origin Panamanian cacao beans
Deep, rich color
Intense, chocolate-y flavor
Vegan
One of the smoothest 80% bars you will ever taste.
Imagine a really good drinking chocolate in bar form. That is Chocolate and Love's Panama 80% Organic Chocolate bar. Full-bodied yet mild, the bar has a good finish and clean snap.
organic cocoa mass, organic raw cane sugar, organic cocoa butter, organic vanilla pods
Chocolate and Love was created out of love for superior chocolate and a belief that good chocolate enjoyed in moderation should be a part of everyone's life. The ingredients that go in to these premium chocolate bars are 100% traceable, as Chocolate and Love uses only organic ingredients from Fairtrade cooperatives with whom they have built relationships.
Chocolate and Love has a respect for the environment, and offsets their carbon footprint by supporting reforestation through Weforest.
This item is sensitive to heat. To protect your order in warm weather—typically April 15 through October 15--or when shipping to a hot destination, 2-day air shipping is required. When estimating days in transit, please exclude shipping date and weekend days. Heat sensitive orders placed after 12:00 pm CST on Wednesday will be held for shipment until the following Monday.

Questions? Call us toll-free: 877-426-4887
.
SEE MORE