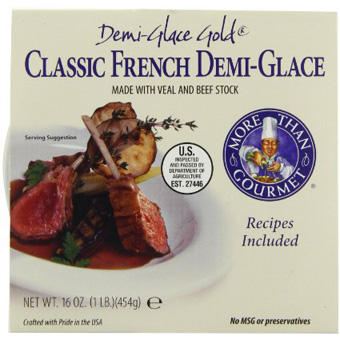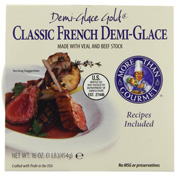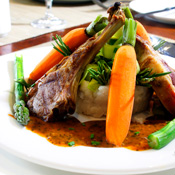 Classic French Demi-Glace
Weight: 1.5 oz
Out of Stock
SUMMARY
SERVING/CARE
INGREDIENTS
THE STORY
A 4 time reduction from brown stock and Sauce Espagnole over a 30 hour period results in a demi-glace with beautiful shine, flavor and texture
Uses only the finest natural ingredients
Use as a base for rich, elegant sauces
Our classic French Demi-Glace from veal and beef stock is made in the old world tradition of Escoffier. Reduced four times over a period of 30 hours, the demi-glace has a beautiful shine, flavor and texture, allowing you to make elegant finished French sauces quickly and easily.
To make a classic French demi-glace, use one part Demi-Glace Gold to 4 parts hot water. Bring to a light simmer and whisk until completely dissolved, approximately 6 minutes.
1.5 oz. makes approximately 1 cup of Demi-Glace.
Veal Stock (veal bones, water), Roux (made of wheat flour and veal fat), Modified Food Starch. Mirepoix Stock (made of carrot, celery, and onion stocks), Red Wine, Beef Stock, Tomato Paste, Salt, Celery Stock, Carrot Stock

Product contains wheat
More Than Gourmet was founded in 1993 with the mission of producing authentic stocks and sauces for the home and professional kitchen, based on authentic recipes, culinary tradition, and the teaching of the great French Chef master, Auguste Escoffier. Escoffier essentially wrote the book on classic French cooking and culinary technique, and his writings are still the basis of all culinary education worldwide.

The mantra of More Than Gourmet is based on a statement from Escoffier's most important book, Guide Culinaire, published in 1903:

"Indeed, stock is everything, at least in French cooking. Without it, nothing can be done. If one's stock is good, what remains of the work is easy; if, on the other hand, it is bad or merely mediocre, it is quite hopeless to expect anything approaching a satisfactory result."

More Than Gourmet has re-created and made available to chefs and home consumers Escoffier's authentic recipes. They strive to be faithful stewards of them by producing classic stocks and sauces for the home and professional cook.
.
SEE MORE