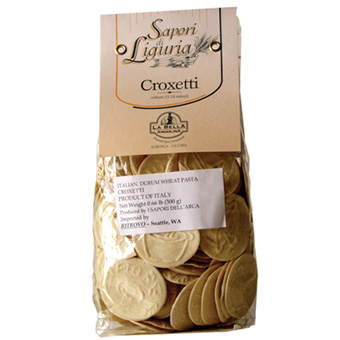 Croxetti Hand-Stamped Pasta
La Bella Angiolina
Weight: 300 grams
Out of Stock

Family Owned

Carasco, Italy

Award Winning
SUMMARY
SUGGESTED USES
INGREDIENTS
THE STORY
RECIPES
An award-winning pasta dating back to the Middle Ages.
One of Italy's most unique and hard to find pastas, La Bella Angiolina Croxetti comes from the Levante area of Liguria, east of Genoa. Where noble families once had the pasta stamped with their coat of arms, our disc-shaped individual croxetti are hand-stamped with images of mortar and pestle, sunsets, or palm trees, creating a light, "open-faced raviolo" that absorbs a wide range of sauces.
Croxetti are a traditional treat with meat and mushroom sauces, though a fresh basil pesto is an ideal accompaniment.
Wonderful with meat and mushroom sauces
Ideal with a fresh basil pesto
For a simple but delicious pasta, drizzle cooked croxetti with extra virgin olive oil, sprinkle with Ligurian herbs, and finish with a dash of pecorino cheese
100% Italian durum wheat, water
The origins of La Bella Angiolina go back centuries to a Ligurian folk heroine who created locally-based recipes so delicious that she was named "the beautiful little angel." Equally faithful to local traditions while using a deft yet sensitive hand and the best quality ingredients, Luca Bastieri and family recreate traditional favorites in the sun-drenched Italian Riviera.

La Bella Angiolina proudly use their own, manually-harvested Taggiasca olives--some picked from trees over 400 years old--along with fresh ingredients from the Italian Riviera to create a varied line of regional delicacies, including savory pestos, condiments, and D.O.P. extra virgin olive oil. There artisan pastas are some of the finest available. These flavors are Italy at its best!


La Bella Angiolina has been recognized with several awards from the National Association for the Specialty Food Trade(NASFT)
.
SEE MORE