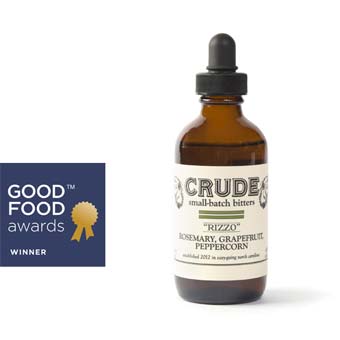 Enlarge Image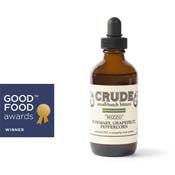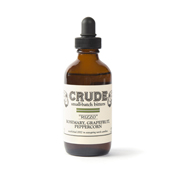 "Rizzo" Small-Batch Bitters with Rosemary, Grapefruit & Peppercorn
Crude Bitters
Weight: 4 fluid ounces

Family Owned

Raleigh, North Carolina
SUMMARY
INGREDIENTS
THE STORY
The first bitters to claim a Good Food Award, its rosemary, grapefruit, and black peppercorn notes crowned Rizzo a 2015 Good Food Award Winner! Grapefruit brightens, rosemary aromatizes, and peppercorn punches to help you create a more intriguing gin and tonic, or a more devious double bourbon.
alcohol, rosemary, grapefruit peel, peppercorn, coriander, water, honey, spices
Cocktail bitters are an important ingredient in a well-made drink, but often remain an afterthought even with a growing focus on craft spirits and homemade syrups. Beginning with a 2015 Good Food Award to "Rizzo" (rosemary, grapefruit, and peppercorn)—the first bitters ever to win—Crude Bitters aims to change after- to forethought. "Lindsay" (pecan, magnolia, habanero) has since taken a 2016 Southern Living Magazine Good Food Award and Apothecary #15 (spruce & birch) took a 2017 Good Food Award.
Established in 2012 "in easy-going North Carolina," with both the professional bartender and the cocktail enthusiast in mind, hand-crafted Crude Bitters can help you experiment with classic and new-age cocktails. These bitters are crafted in small batches from 100% maceration in organic, non-GMO alcohol, with no glycerin, chemicals, or dyes, and exclusively glass pots or wood barrels are used in the storage and aging of their products. Plus, their catchy names mirror the inventiveness of their ingredients.
.
SEE MORE