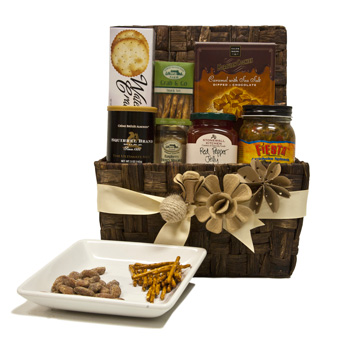 Enlarge Image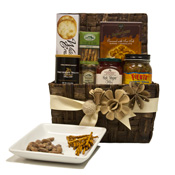 Crunch & Munch Snack Basket
Salty meets sweet in this popular snack basket featuring everything you need for those undeniable cravings! Pair our savory Artichoke Spinach Dip mix or vibrant Red Pepper Jelly with a perfectly crisped water cracker for a delicious nibble. Dip a fat, salty pretzel into a jar of Raspberry Honey Mustard Pretzel Dip. And when you can't say no to something sweet, pop a Crème Brûlée Almond in your mouth and chase it with a Chocolate Dipped Caramel Moravian Cookie, sprinkled with a hint of sea salt. Indulge yourself. Or make someone happy. Very, very happy.
Fiesta Artichoke Spinach Dip Mix
: Loaded with fresh spinach, artichokes & garlic. Mix with cream cheese and get ready for one great dip.
15.5 oz.
Crème Brûlée Almonds
: California almonds toasted with rich sweet crème flavors, then finished with a thin layer of caramelized sugar.
5 oz.
Stonewall Kitchen Red Pepper Jelly
: Jelly made from sweet red peppers, pure cane sugar and vinegar. A delicious sweet and savory jam that makes entertaining easy! Pair with cream cheese and crackers for a quick snack.
13 oz.
Elki Water Crackers
: Thin, crispy crackers, baked to golden brown. An ideal cracker for a variety of toppings!
4.4 oz.
Chocolate Dipped Caramel with Sea Salt Moravian Cookies
: These thin and crisp cookies are baked with rich melted caramel and a hit of gourmet sea salt, then dipped in rich chocolate.
8 oz.
Raspberry Honey Mustard Pretzel Dip Grab 'n Go Snack Set
: Crunchy, salty and sweet all here - the perfect snack on the go!
4.5 oz. pretzel dip with small bag of pretzels
BASKET:
Chocolate Brown Hyacinth Basket, 11.5"x8"x6.5"
**A Note on Substitutions:
Because many of our items are made in very small batches and some are made to order, we may need to occasionally swap an out-of-stock item for a similar one. Be assured it will be of equal or greater value and equally delicious!
.
SEE MORE