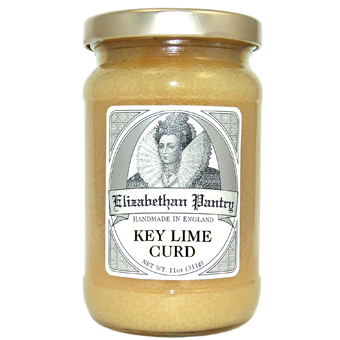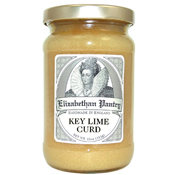 Elizabethan Pantry Key Lime Curd
Weight: 11 oz
Out of Stock

Family Owned

Ledbury, England
SUMMARY
SUGGESTED USES
INGREDIENTS
THE STORY
Curds are intensely flavored fruit butters. In late 19th and early 20th century England, lemon curd was traditionally served at afternoon tea with scones or bread as an alternative to jam. Simple and natural, curds are usually made of lemon, lime, raspberry or orange, with the addition of eggs, sugar, butter and zest . The ingredients are cooked together until thick, then allowed to cool, forming a soft, smooth, intensely flavored spread that has many delicious uses.
Rich, creamy and pleasantly tart, Elizabethan Pantry's Key Lime Curd tastes like the very finest key lime pie! Made in very small batches, it is a soft, thick, spreadable cooked mixture of farm fresh eggs, sugar, key lime juice and dairy butter, and has an intense, tart flavor found only in key limes. It can be served as a spread for scones or toast, and goes well with tea at any time of day. It is also wonderful as a filling in trifles, tarts, and sponge cakes. Layer in a parfait glass with crumbled shortbread for a simple and elegant dessert. The list goes on and on!
Use as a spread for toast, bagels, English muffins and scones
Fabulous on pound cake, fresh fruit, ice cream...just about anything!
A superb filling for vanilla cupcakes
Fill miniature pastry shells with key lime curd, top with a fresh whipped cream, a thin wedge of key lime or key lime zest, and garnish with a sprig of mint for a lovely bite-sized dessert
Top cheesecake with key lime curd and garnish with wedges of fresh lime
Sugar, Key Lime Juice, Eggs, Butter, Lime Oil. Gelling Agent: Fruit Pectin
Elizabethan Pantry produces genuine stillroom recipes so popular during the reign of Queen Elizabeth I. What is a stillroom? It was the room where the housekeeper distilled essences and extracted oils from herbs and flowers to flavor recipes and make lotions and other household products.

All Elizabethan Pantry products are hand-made in Ledbury, England, a thriving market town in rural Herefordshire, England. They are all natural, using only the freshest locally sourced ingredients.
.
SEE MORE