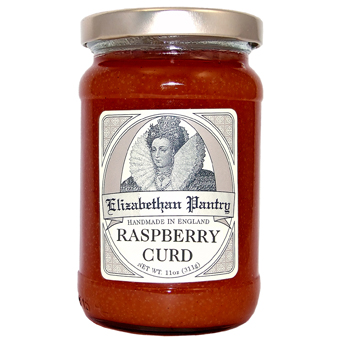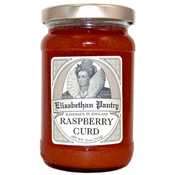 Elizabethan Pantry Raspberry Curd
Weight: 11 oz

Family Owned

Ledbury, England

Award Winning
SUMMARY
SUGGESTED USES
INGREDIENTS
THE STORY
Curds are intensely flavored fruit butters. In late 19th and early 20th century England, lemon curd was traditionally served at afternoon tea with scones or bread as an alternative to jam. Simple and natural, curds are usually made of lemon, lime, raspberry or orange, with the addition of eggs, sugar, butter and zest. The ingredients are cooked together until thick, then allowed to cool, forming a soft, smooth, intensely flavored spread that has many delicious uses.
Hand-made using all natural ingredients, Elizabethan Pantry's Raspberry Curd is an intoxicating blend of ripe red raspberries, sugar, farm fresh eggs and creamery butter. The curd has a thick, creamy consistency and beautiful color, making it an ideal topping for vanilla ice cream or cheesecake. It is also delicious with fresh-baked scones or muffins, and anything lemon!
Use as a spread for toast, bagels, English muffins and scones
Fabulous on pound cake, fresh fruit, ice cream...just about anything!
Fill miniature pastry shells with raspberry curd, top with a fresh whipped cream, a whole raspberry and garnish with a sprig of mint for a lovely bite-sized dessert
Spread between layers of a lemon cake
Delicious with dark chocolate and ginger
Top cheesecake with raspberry curd and fresh berries in season
Sugar, Raspberry Juice, Eggs, Butter, Citric Acid. Gelling Agent: Fruit Pectin
Elizabethan Pantry produces genuine stillroom recipes so popular during the reign of Queen Elizabeth I. What is a stillroom? It was the room where the housekeeper distilled essences and extracted oils from herbs and flowers to flavor recipes and make lotions and other household products.

All Elizabethan Pantry products are hand-made in Ledbury, England, a thriving market town in rural Herefordshire, England. They are all natural, using only the freshest locally sourced ingredients.
.
SEE MORE