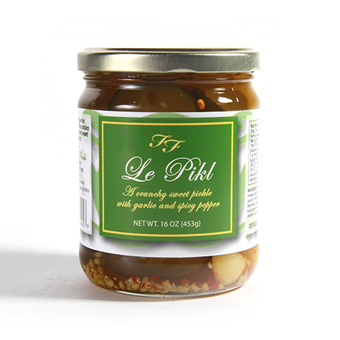 Enlarge Image
"Le Pikl" Sweet & Spicy Pickles
Farnsworth Foods
Weight: 16 oz
Out of Stock

Family Owned

Hot Springs, AR
SUMMARY
SUGGESTED USES
INGREDIENTS
THE STORY
Terry Cokes, the culinary genius behind Farnsworth Foods, created "Le Pikl" from a recipe handed down by her great-grandmother. These crunchy, sweet bites are perfectly seasoned with garlic and spicy, pungent pepper. Ideal for sandwiches or as additions to pasta and potato salads, they are great on their own as well! Place a bowl in the center of the table and watch them disappear.
Great with burgers, hot dogs, and other sandwiches
Chop and add to pasta or potato salads
Cucumbers, Sugar, Water, Vinegar, Salt, Garlic, Peppers, Spices, Alum, Calcium Chloride, Natural Flavoring, Sodium Benzoate, Potassium Sorbate, Phosphoric Acid, (preservative), Oleoresin Turmeric, Yellow #5, Polysorbate 80.
"I was 7 in 1955, playing in the sandbox, catching lightning bugs, getting chigger bites.......basically, just having great summer fun"! says Terry Cokes, founder and owner of Farnsworth Foods in Hot Springs, Arkansas. "That was also the year Mother Allen, my great grandmother, moved to Tulsa. She was bigger than life to me - sporting dresses made of grand floral prints, large bonnets, and smelling like Talcum powder. I loved her right away. She was a mail-order-bride - my great grandfather had "ordered" a young lady to wed and bear his children. They had 9! She arrived on a boat from England to fulfill his life plan. As I got older, the idea of such a marriage was the strangest thing I could ever imagine, but I was surely blessed to have had such a grand woman in my life".
Holidays at home for Terry were magical. Mother Allen always had a large bowl of her homemade sweet pickles on the table no matter what the meal. She would also prepare a ham at holiday time, and accompany it with her special "ham sauce".
Terry launched Farnsworth Foods in 2009 with two products based on the recipes she so fondly remembers growing up. "Le Pikl", a crunchy, sweet pickle with garlic and spicy pepper, would make Mother Allen proud. And her English Cream Sauce, an updated version of Mother Allen's "ham sauce", has become a top selling product year-round.
.
SEE MORE