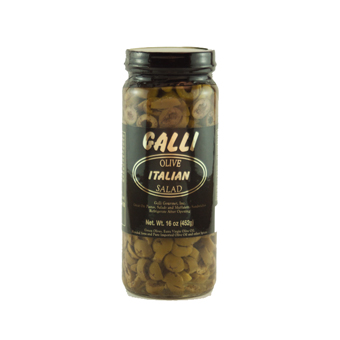 Galli Gourmet Italian Olive Salad, Mild
Weight: 16 oz
Out of Stock

Family Owned

Destin, FL
SUMMARY
SUGGESTED USES
INGREDIENTS
THE STORY
Olive lovers can't get enough of this award-winning olive salad, a fantastic blend of perfect, plump olives, fine Sicilian extra-virgin olive oil and seasonings. Top fresh greens for a zesty "soaked salad", or add wonderful Mediterranean flavor to pasta and egg salads. For a simple snack, spoon over a block of cream cheese and serve with crackers.
Spoon atop leafy greens for a delicious soaked salad
Toss in pasta salads, blend into egg salad, or use as a garnish for deviled eggs
Spoon over cream cheese and serve with crackers for an easy hors d'oeuvre
Green Olives, Extra Virgin Olive Oil, Blended Soya and Pure Imported Olive Oil and other spices.
Ken Galli is a Chicago, Illinois native who has lived form more than fifty years in the South, from New Orleans, Louisiana to Destin, Florida, where he today operates his international Italian food company, Galli Gourmet.

Shortly after World War II, a young Ken Galli went to work in an Italian butcher shop in Chicago. While his friends were out playing baseball, Galli was busy learning the art of Italian cuisine. It was while here that Galli created his delicious hot pepper and olive salads, and started producing them, by hand, in a converted mobile home. Having perfected his craft, Galli Gourmet is today found in more than 600 specialty retailers from Florida to California.
.
SEE MORE