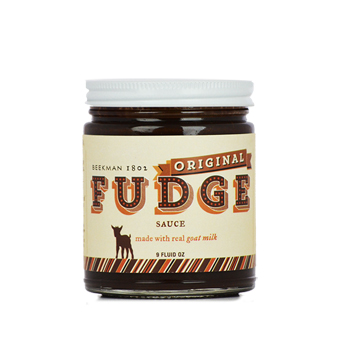 Enlarge Image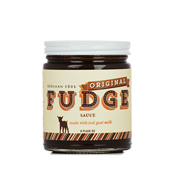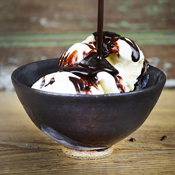 Goat's Milk Fudge Sauce
Beekman 1802
Weight: 9 oz
Out of Stock

Family Owned

Sharon Springs, New York
SUMMARY
INGREDIENTS
THE STORY
A new addiction.
An honest fudge sauce with real homemade taste is hard to find. But guess what? We found it. Made with farm fresh cream, butter, and fresh goat milk, this decadent sauce from Beekman 1802 is as good as it gets. Handmade in small batches in upstate New York. No corn syrup. No stabilizers. Just pure. Hot. Fudge.
Sugar, half and half (milk, cream, skim milk), goats milk, semi-sweet chocolate(chocolate liquor processed w/alkali, sugar, cocoa butter, butterfat, soy lecithin, vanillin, natural flavors), cocoa, butter, potassium sorbate for freshness. May contain traces of nuts. This product is handmade using granulated sugar. Occasional sugar crystals may form. Do not overheat.
Although Josh Kilmer-Purcell and Brent Ridge founded Beekman 1802 in 2008, they consider the company to be an extension of a two hundred year old agricultural mercantile that once existed and thrived at the same site. In 2008, Josh and Brent travelled from New York City to a town located in upstate New York called Sharon Springs. It was here, in this charming community of 547 people that Beekman 1802 was born.
The charismatic entrepreneurial duo was immediately inspired by the lush, fertile land and the extraordinarily talented crafts-people of Sharon Springs. Josh and Brent decided to invest in this unique part of the county, and they created an agricultural mercantile of their own based on the spirit and model of the original Beekman farm.
Since its founding in 2008, Beekman 1802 has grown into an enormous agricultural enterprise. Beekman 1802 sells refined agricultural goods such as rich jams, and sweet honey. The once small company now enjoys national publicity, and Josh and Brent have been given starring roles in a reality show entitled "The Fabulous Beekman Boys" that airs on the Cooking Channel. The Beekman boys, as they are affectionately referred to by fans, have published several beautiful cookbooks, and they are extremely active on social media. They write ongoing blogs detailing their adventures on Beekman farm, and their website features interactive components such as a video series in which they answer fan questions, and a live "goat cam" that provides an exclusive view of the many goats who live on Beekman farm.
The heart and zest with which Josh and Brent manage Beekman 1802 is exhibited clearly in the design and nature of each and every one of their unique products. Since local individual farmers and craftspeople create products to be sold at Beekman 1802, each Beekman product is manufactured and distributed with remarkable attention to detail. Through its steadfast support of local farms and businesses, Beekman 1802 more than lives up to it's motto, "Cultivate a better life." The Beekman boys are single-handedly revolutionizing the nature of agricultural marketing by combining agricultural expertise with sleek entrepreneurial style.
.
SEE MORE