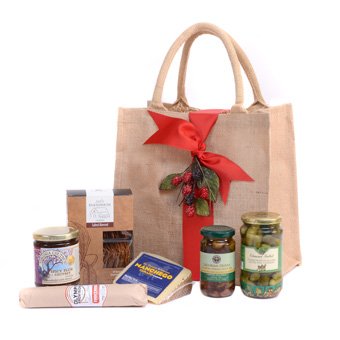 Enlarge Image
Instant Antipasti Platter
Everything you need for impressive on-the-spot entertaining is featured in this party-ready selection, designed to create the perfect antipasti platter with ease. Lovely as a gift for the host or hostess, the collection features tried-and-true favorites ideal for picnicking or serving with wine or cocktails.
La Bella Angiolina - Pitted Taggiasca Olives
: Buttery, compact and tender, a superb olive from the Italy's Liguria region. Low in sodium and packed in extra virgin olive oil, they are an ideal table olive.
6.35 oz.
Manchego Cheese
: From Spain, a sheep's milk cheese with a rich, nutty taste and firm texture.
One wedge, approximately 6 oz.
Olympia Provisions - Finocchiona Dry Cured Salami
: Traditional hand-crafted Italian-style salami with garlic, black pepper & fennel.
4.5 oz.
Jan's Farmhouse Crisps - Salted Almond Crisps
: This extra-thin crisp combines almonds, golden raisins, honey and a touch of sea salt for a classic, sweet & salty snack cracker.
4 oz.
The Virginia Chutney Company - Spicy Plum Chutney
: A robust, gingery balance of spicy and sweet, this chutney pairs perfectly with Manchego and is a lovely complement to roast pork and poultry as well.
10 oz.
Edmond Fallot - Cornichons
: A crispy, extra-fine gherkin flavored with vinegar, tarragon, mustard seed and pearl onions. Excellent paired with cheese.
11.95 oz.
CONTAINER:
Jute Tote, 12 x 12 x 7 3/4
**A Note on Substitutions:
Because many of our items are made in very small batches and some are made to order, we may need to occasionally swap an out-of-stock item for a similar one. Be assured it will be of equal or greater value and equally delicious!
.
SEE MORE