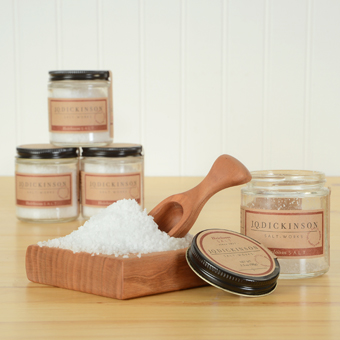 Enlarge Image
J.Q. Dickinson Heirloom Salt Gift
Salt has traditionally been given in celebration of weddings and housewarmings, with the hope that "life will always have flavor". This lovely gift set features artisanal salt from J.Q. Dickinson Saltworks in Malden, West Virginia. Produced from brine extracted far below the Appalachian mountains, the salt has garnered a cult following from such notable restaurants as The French Laundry in Napa Valley, Husk in Charleston, S.C. and Baltimore's Woodberry Kitchen. With only 10,000 pounds produced each year, this is small-batch salt at its best.
A lovely hand-turned salt cellar and scoop made in the Appalachians from rich cherry wood accompanies the salt for a gift to be treasured for years to come.
J.Q. Dickinson Salt-works - Heirloom Salt :
An extraordinary artisan salt from an ancient sea deep below the Appalachian mountains.
3.5oz.
Allegheny Treenware - Cherry Salt Cellar:
This beautiful hand-turned cherry wood cellar is a stunning addition to any table.
4" x 4" Salt Cellar
Allegheny Treenware - Cherry Salt Scoop:
A beautiful scoop handcrafted from cherry wood.
4 1/2" salt scoop
.
SEE MORE