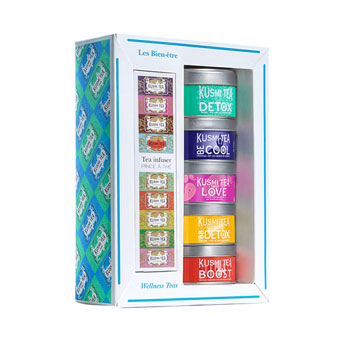 Enlarge Image
Wellness Teas Gift Set with Infuser
Kusmi Tea

France
These five flavored and herbal tea miniatures share an array of iconic Kusmi Wellness Teas in their loose-leaf form, accompanied by an infuser, all in boldly colored tins. Whatever state of mind and body you desire to reach or enjoy can be achieved right in your cup.
This luxurious set includes:
Detox: Think clean and clear with this blend of maté and green tea with scents of lemon and lemon grass.
Sweet Love: Enticing lack tea, cardamom, liquorice root, cinnamon, aniseed, clove buds, pink pepper, and guarana seeds will invigorate your senses.
Be Cool: Rosehip seed, apple, verbena leaves, peppermint, anise seeds, and liquorice roots will help you capture a moment of harmony.
Euphoria: Chocolate lovers indulge without guilt with this tempting mélange of toasted mate, cocoa beans, orange peel, and orange blossom.
BB Detox: Take a beauty break with green tea, rosehip seeds, maté, rooibos, fennel, mint, grapefruit flavoring, guarana seeds, and dandelion.
Infuser spoon
Since 1867, when Kusmi Tea became the preferred tea of the Russian tsars, the brand has remained bold, becoming stronger and more iconic around the turn of the 21st century. In a little over a decade, the unrivalled tea house has opened 85 boutiques in 35 countries, offering 100 different tea blends (all of which are produced near Le Havre, in the Normandy region of France) and employing over 600 people worldwide.
.
SEE MORE