Enlarge Image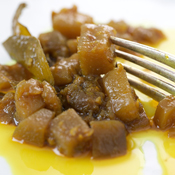 Brinjal Caponata (Purple Eggplant with Cumin & Curry Leaves)
Le Bon Magot
Weight: 8 oz

Family Owned

Lawrenceville, New Jersey

Award Winning
SUMMARY
SUGGESTED USES
INGREDIENTS
With hearty flesh, gleaming skin and caviar-like seeds, the aubergine is vegetable royalty in Asia. Like its Mediterranean sisters, this flavorful relish from West India has a natural affinity to oil-rich grilled fish, lamb, and nutty cheeses. Swirl into mashed potatoes or pureed cauliflower for an inspired side. Spoon atop toasted flatbread spread with ricotta cheese for an easy appetizer, or fold into an omelette for a dazzling breakfast.
Serve alongside smoked chicken
Delicious with eggs, any style
Pair with hard, sharp cheeses
Serve with lentil and rice dishes
A lively marinade for lamb
aubergine, sesame oil, sugar, vinegar, chillies, garlic, ginger, cumin, sea salt, spices, fresh curry leaves
.
SEE MORE