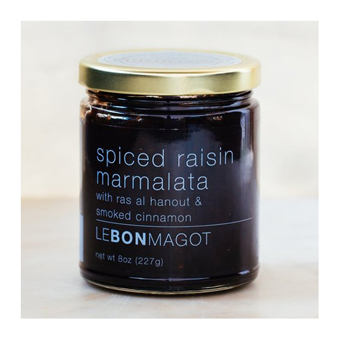 Enlarge Image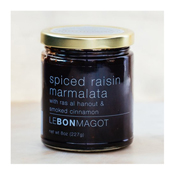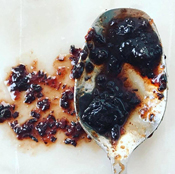 Spiced Raisin Marmalata with Ras el Hanout & Smoked Cinnamon
Le Bon Magot
Weight: 8 oz

Family Owned

Lawrenceville, New Jersey

Award Winning
SUMMARY
SUGGESTED USES
INGREDIENTS
RECIPES
One taste of this smoky, exotic chutney will transport you to the Silk Road. Ebony raisins are suspended in a sweet and spicy syrup containing Ras el Hanout, North Africa's signature spice blend comprised of cinnamon, cardamom and rose petals. The peppery taste pairs well with game, pork, poultry and cheeses, or riff on a PB&J with feta and pine nuts for an East-meets-West treat! Incorporate a few tablespoons into your next batch of oatmeal raisin cookies for a spiced up version.
Serve as an accompaniment to soft cheeses
Delicious with oatmeal
Try it with yogurt or ice cream
Pairs well with pork and game
Try a riff on a PB&J with feta and pine nuts
raisins, vinegar, sugar, soy sauce, chili powder, cardamom, cinnamon, cumin, dried rose petals, smoked cinnamon, sea salt
.
SEE MORE