Enlarge Image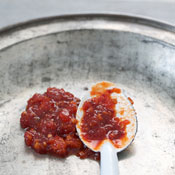 Tomato & White Sultana Chutney with Ginger & Garam Masala
Le Bon Magot
Weight: 8 oz

Family Owned

Lawrenceville, New Jersey

Award Winning
SUMMARY
INGREDIENTS
RECIPES
Your new plate-side companion at every meal.
Chutney has been a ubiquitous part of Indian cuisine since before 500 B.C., with each region relying on a distinctive spice blend to preserve locally cultivated or foraged produce. "Chutney", or chattni, in Hindi means "to lick", which is precisely what you will do as you lick your spoon of this savory spread clean! When the sweet fruitiness of tomato is married to piquant Kashmiri chilies in this versatile chutney, you will not feel the need to reach for ketchup. Jazz up a charcuterie platter or spread on toasted ciabatta for an out-of-this-world cocktail nibble.
tomatoes, sugar, vinegar, white sultanas, Kashmiri chillies, garlic, ginger, garam masala, sea salt
.
SEE MORE