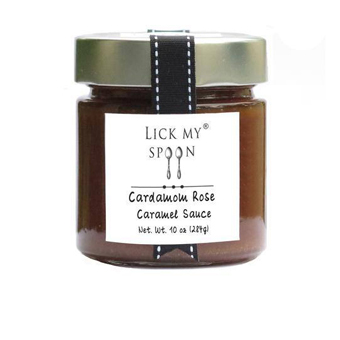 Enlarge Image
Lick My Spoon Caramel Sauce with Cardamom & Rose
Kristine Insalaco-Gaioni
Weight: 10 oz
Out of Stock

Family Owned

Florida
SUMMARY
INGREDIENTS
THE STORY
Kristine Insalaco-Gaioni, creator of the ethereal line of caramel sauces bearing the Lick My Spoon label, has given your next bowl of ice cream a Middle Eastern twist with the latest flavor in this award-winning roster - Cardamom Rose. Handcrafted in small batches to ensure a silky smooth, pourable sauce, it starts with Kristine's triple award-winning caramel sauce as its base. The addition of spicy cardamom and organic rosewater lend an exotic twist to fresh fruit, yogurt, pancakes, waffles, cakes and ice cream.
heavy cream, pure cane sugar, organic vanilla beans, Madagascar rose water, cardamom, organic fleur de sel
Since its 2013 launch when founder Kristine Insalaco-Gaioni was making just 4 jars of Caramel Sauce at a time, Lick My Spoon has earned five consecutive annual Good Food Awards. Using no artificial flavorings or preservatives, Kristine continues to develop sauces she dubs "American classics with Italian influences," calling up her family's Italian roots.
Your purchase also helps provide jobs—the packaging is completed by teens and young adults from a special needs home paid to place the labels in the home's commercial kitchen. Fall for this feel good company that invites you to Lick Your Spoon again and again.
Read our interview with Lick My Spoon's Kristine Insalaco-Gaioni on our Taste.Savor.Share Blog.
.
SEE MORE