Enlarge Image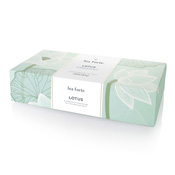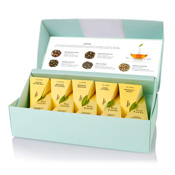 Lotus Petite Presentation Box
Tea Forté
Out of Stock

Organic
The next elevation of tea.
This unique and unprecedented gourmet collection of highest-grade, small-lot, certified organic teas have been difficult to source as they are rarely exported. Reflecting the creativity and craftsmanship of this ultimate tea experience, Lotus comes exquisitely presented in an unapologetically modern design evoking the sophistication and sensory experience that these teas offer.
The open lid reveals the Lotus assortment of handcrafted silken pyramid infusers and detailed tea menu for easy blend selection. Contains ten silken pyramid infusers (two of each blend): Darjeeling Quince, Mountain Oolong, Orange Jasmine, Vanilla Pear, Lemon Lavender. All teas are organic.
.
SEE MORE