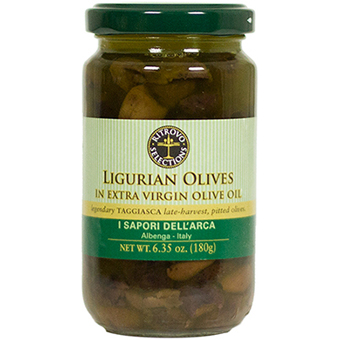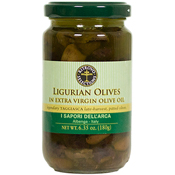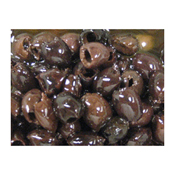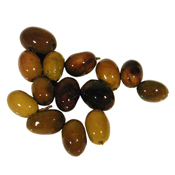 Pitted Taggiasca Olives in Extra Virgin Olive Oil
La Bella Angiolina
Weight: 6.35 oz
Out of Stock

Family Owned

Liguria Region, Italy
SUMMARY
SUGGESTED USES
INGREDIENTS
THE STORY
Olive Snocciolate (pitted olives) from Liguria
Hand harvested
Packed in extra virgin olive oil
A compact olive with a buttery taste
Low in sodium
From tree to table, these olives are as good as they come.
Grown exclusively in the Ligurian region of Italy, these legendary late-harvest Taggiasca olives are pitted, then packed in extra-virgin olive oil. Compact and buttery, they make an impeccable addition to an antipasti platter, and are fabulous in seafood and meat dishes. Tossed into salads or sprinkled over a pizza, they are destined to become a favorite.
An excellent choice for seafood and meat dishes calling for olives
A perfect addition to an antipasti platter
Toss in salads or use as a pizza topping
Pitted olives, Extra virgin olive oil, Salt, Natural flavorings
The origins of La Bella Angiolina go back centuries to a Ligurian folk heroine who created locally-based recipes so delicious that she was named "the beautiful little angel." Equally faithful to local traditions while using a deft yet sensitive hand and the best quality ingredients, Luca Bastieri and family recreate traditional favorites in the sun-drenched Italian Riviera.

La Bella Angiolina proudly use their own, manually-harvested Taggiasca olives--some picked from trees over 400 years old--along with fresh ingredients from the Italian Riviera to create a varied line of regional delicacies, including savory pestos, condiments, and D.O.P. extra virgin olive oil. There artisan pastas are some of the finest available. These flavors are Italy at its best!


La Bella Angiolina has been recognized with several awards from the National Association for the Specialty Food Trade(NASFT)
.
SEE MORE