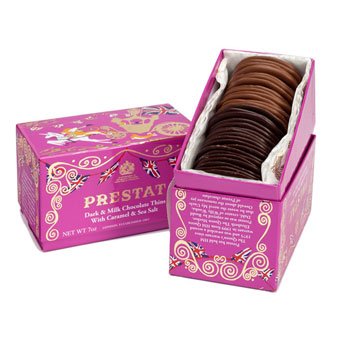 Enlarge Image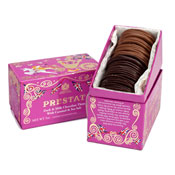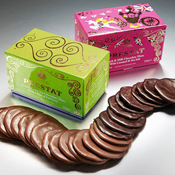 Prestat Coronation Sea Salt Caramel Thins
Prestat Chocolate
Weight: 7 oz

Family Owned

London, United Kingdom
SUMMARY
INGREDIENTS
THE STORY
SHIPPING
Prestat, a London purveyor of exquisite chocolate confections, has held a Royal Warrant from Her Majesty the Queen for over 35 years. Fitting, then, that these acclaimed chocolatiers created a celebratory box of whisper thin chocolate wafers to mark the 60th anniversary of the Queen's coronation.
These decadent chocolate wafers seductively melt in your mouth, releasing flavors of rich dark and creamy milk chocolate with caramel and sea salt. Beautifully packaged in a whimsical pink box complete with Union Jack bunting and the Gold State Coach, these delightful confections make a fitting gift for any chocolate lover.
sugar, chocolate liquor, cocoa butter, caramel (milk, sugar, butter (milk), caramel flavour), milk, sea salt, soy lecithin, vanilla flavoring
Whether you are looking for a special occasion gift or a glorious moment of self-indulgence, the exquisite handmade chocolates and truffles from London's Prestat answer the call in an exquisitely delicious way. Prestat, an English company with roots in France, is the proud holder of two Royal Warrants "by Appointment to her Majesty the Queen" as purveyors of luscious chocolate truffles and confections. Since its founding in 1902 by Antoine Dufoir, a French immigrant from a family of confectioners and chocolatiers, Prestat has enjoyed a loyal following from royalty and celebrities worldwide. The shop was also a favorite haunt of Roald Dahl, author of "Charlie and the Chocolate Factory". It is only in recent years that these luxurious chocolates have made their way stateside.
Prestat survived changes in ownership and a move from its birthplace on South Molton Street to its current location at Princes Arcade just off London's Piccadilly, but it is under the ownership of Nick Crean and his half-brother Bill Keeling that the company has flourished. Nick had known the Prestat shop from his days as a teenager, and it fostered happy memories. When the opportunity to purchase it presented itself, he didn't hesitate.
Step in to the Prestat shop and you are enveloped in a jewel box of color. Prestat's packaging is instantly recognizable, a rainbow of pink, turquoise, green and gold with festive, whimsical designs by artist Kitty Arden, a childhood friend of Crean's. The only thing more memorable than the packaging is the chocolate within.
This item is sensitive to heat and should not be in transit for more than 2 days, particularly when shipping to a warm weather destination. Questions? Call us toll-free: 877-426-4887.
.
SEE MORE