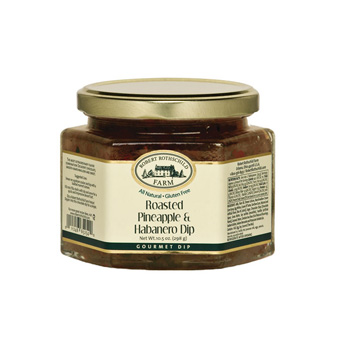 Ratings & Reviews
Yum!
Jan 23, 2013 | By Janice





Pork chop..ham..chicken.. great dipping sauce for shrimp..so so good
Roasted Pineapple & Habanero Dip
Robert Rothschild
Weight: 12.7 oz
Out of Stock
SUMMARY
SUGGESTED USES
INGREDIENTS
THE STORY
A tropical dip with a perfect balance of sweet and subtle heat.
Combining roasted pineapple, mangos, and the robust flavor of habanero peppers, Robert Rothschild Roasted Pineapple & Habanero Dip is a must to have on hand for entertaining in a hurry. As a quick appetizer, pour over cream cheese and serve with crackers or pita chips. Get creative in the kitchen and use this dip to add great flavor to chicken salad and pork chops!
Makes a great dip when combined with cream cheese
Use as a savory baste for grilled pork chops
Adds tropical flavor and just the right amount of heat to chicken salad
Sugar, Pineapples (Pineapples, Pineapple juice, Citric acid, Ascorbic acid), Lemon juice (from concentrate), Cider vinegar, Onions, Yellow bell peppers, Red bell peppers, Habanero peppers, Mangos, Xanthan gum, Natural flavor
Robert Rothschild farm, a family-founded company in Urbana, Ohio, is the purveyor of award-winning specialty foods recognized nationally for their bold combinations of flavors.

In 1976, Bob and Sara Rothschild left the San Francisco Bay area for a 170-acre farm in Urbana, Ohio, to begin a family business. Their future was found in the challenge of harvesting red heritage raspberries in the heart of the corn belt of Ohio.

During the 1984 harvest at their pick-your-own raspberry business, a walk through the fields by Bob and Sara prompted the idea of creating raspberry preserves from the excess berries. Growing from an afterthought to an enterprise, the Robert Rothschild line of specialty foods has flourished.

Robert Rothschild's offerings include a sensational line of dips and mustards. Recognized for bold flavors and expert blending, their open and serve products are ideal for busy, yet discerning hosts and cooks, helping to add elegance and excitement to their meals.
.
SEE MORE