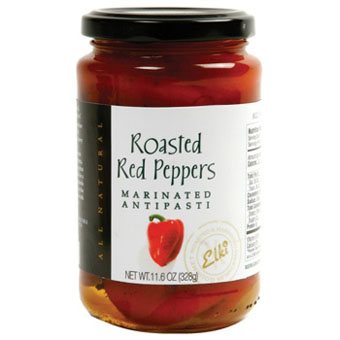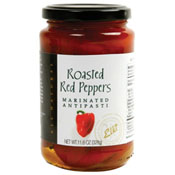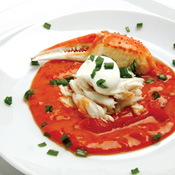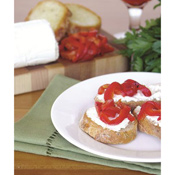 Roasted Red Peppers
Elki Gourmet
Weight: 11.6 oz
Out of Stock
SUMMARY
INGREDIENTS
THE STORY
RECIPES
Savor the flavor of summer with Elki's Roasted Red Pepper Antipasti!
Suggested Uses:
For a beautiful appetizer tray, combine with artichokes, asparagus spears, cherry tomatoes and cucumber
Slice into strips and add to hot or cold pasta dishes
Chop and use in salads, omelets, risotto, or as a topping for pizza
For a roasted red pepper bruschetta, slice the peppers, place on slices of toasted baguette, top with gorgonzola cheese and bake for 5 minutes until the cheese softens. Drizzle with olive oil and balsamic vinegar and garnish with fresh basil.
Add to spaghetti sauce for robust flavor
Elki's Roasted Red Pepper antipasti consists of tender and juicy red bell peppers which have been fire-roasted, then carefully preserved in sunflower oil, allowing the subtle smoky flavor of the open flame to come through. Try these luscious peppers on your next deli sandwich in place of tomatoes, or give them a rough chop and toss them into your favorite marinara sauce for great depth of flavor.
Roasted red pepper, Water, Vegetable oil, Garlic, Salt, Citric acid
Since she was a young girl, Elizabeth Lie, founder and owner of Elki Gourmet, has had a passion for great food. Little did she know that her passion for the food world would be fulfilled by a company her father, Gunnar, started "unintentionally" in 1984. Her father was already the head of Norpro, a successful kitchenware business. He had no intention of starting another business until a couple of people from Scandinavia asked that he help them sell their homemade preserves from Denmark under the label Scandinavian Delights. After declining a couple times, he agreed to take the preserves to a gourmet products trade show. Little did he know, the preserves would sell so well and create a following. Elki was born!

Years went by and the Scandinavian Delight Preserves' sales grew and grew. During her summer break in college, Elizabeth helped out at Elki and realized she wanted to be a part of the gourmet food industry. In 1995 she came to work at Elki full time and, after a few years, bought the company.

Elki uses only the highest quality ingredients to create the finest specialty food products, both importing and creating original recipes domestically. They maintain a solid reputation in the gourmet food industry and are the recipients of several national awards for their products.
.
SEE MORE