Enlarge Image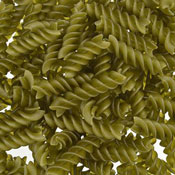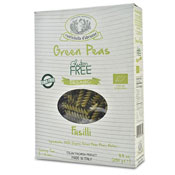 Organic Green Pea Fusilli
Rustichella d'Abruzzo
Weight: 8.8 oz

Family Owned

Gluten Free

Organic

Italy
Pasta pioneer Rustichella d'Abruzzo has created a new, one-of-a-kind pasta made exclusively with organic, gluten-free, GMO-free green pea flour. The result is subtle and delicious green pea flavor in an artisan pasta that cooks to the perfect al dente bite.
At home chefs will be inspired to get creative! Toss with fresh peas (for even more intense pea flavor), cultured butter and lemon, or finish with a mint or cilantro pesto and lemon zest.
Legume pasta is more delicate than traditional durum wheat pasta. For a perfect al dente bite, please be sure to cook it in abundant salted boiling water and carefully follow the directions on the package.
100% organic green pea flour, water
.
SEE MORE