Enlarge Image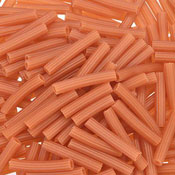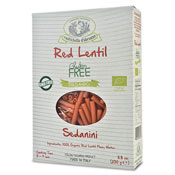 Organic Red Lentil Sedanini
Rustichella d'Abruzzo
Weight: 8.8 oz

Family Owned

Gluten Free

Organic

Italy
SUMMARY
SUGGESTED USES
INGREDIENTS
Sedanini, a tube shaped pasta shape somewhere between elbows and penne, is a staple in Italian kitchens. This brilliantly hued, one-of-a-kind version is produced from organic, gluten-free, non-GMO red lentil flour by Rustichella d'Abruzzo, pioneers of the world's finest pasta since the early 1900's. Pasta connoisseurs will be amazed by the texture and nuanced flavor. Dress with a simple sauce of tomatoes and onions, or simply toss with butter or olive oil. A delicious gluten-free option.
Legume pasta is more delicate than traditional durum wheat pasta. For a perfect al dente bite, be sure to cook it in abundant salted boiling water and carefully follow the directions on the package.
Toss it with eggplant caponata for a refreshing summer pasta salad
Make a quick shrimp sauté with capers, a little anchovy, and loads of spinach
Mix it with melted butter and salmon caviar, and top with a dollop of crème fraîche
100% organic red lentil flour, water
.
SEE MORE