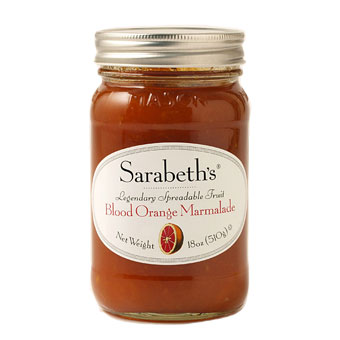 Sarabeth's Blood Orange Marmalade
Sarabeth's Kitchen
Weight: 18 oz
SUMMARY
INGREDIENTS
THE STORY
From sweet and mellow California blood oranges
Made by award-winning jam maker and acclaimed pastry chef Sarabeth Levine
Sweet, mellow blood orange flavor with a hint of apricot
A delicious marmalade for breakfast breads
Add to barbeque sauces for sweet, citrusy flavor
Brings great depth of flavor to pan sauces for poultry
Winner of the sofi™ gold award for Outstanding Classic, 2009 International Fancy Food Show.
This jewel-toned marmalade is made only during the harvesting of the rare California blood orange. Sweet and mellow, Sarabeth's Blood Orange Marmalade will brighten up your morning breakfast table. We also love the depth of flavor blood orange marmalade lends to glazes and sauces for poultry.
Blood oranges, Sugar, Dried apricots (Contains sulfur dioxide to promote color retention), Water (to rehydrate the apricots), Pineapple

May contain an occasional pit
In 1981, Sarabeth Levine began making Orange-Apricot Marmalade from her home kitchen from a 200 year old family recipe and selling it to local food shops. From that humble beginning, Sarabeth, together with her husband and business partner, Bill Levine, now own and operate a jam factory, a wholesale-retail bakery café and nine restaurants. It is a true American success story.

Sarabeth's Legendary Spreadable Fruits have long been customer favorites in The Savory Pantry. Each batch is watched carefully throughout the cooking process. The fruits are hand-cut to avoid bruising and to preserve their natural flavor and texture. They are slowly simmered in small batches and allowed to thicken without the use of pectin, until they reach their peak of flavor. Over the years, Sarabeth has meticulously developed a number of delicious flavors in her Spreadable Fruit line, using only the finest of ingredients. These spreadables are unique because each flavor combines two to three fruits. They are all natural, less sweet and lower in calories per serving than ordinary preserves.
.
SEE MORE