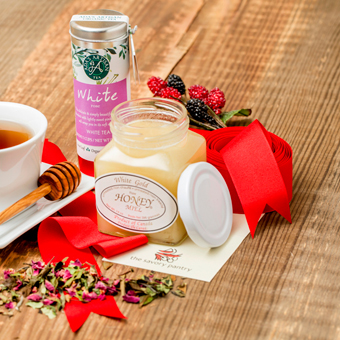 Enlarge Image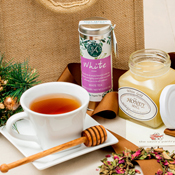 Simply Tea & Honey Gift
Simple pleasures are often the best. Plan a serene afternoon retreat around this lovely gift, featuring exemplary organic White Rose Tea - a delicate tea, blended with lightly sweet pink rose petals. Sweeten your cup with unadulterated pure raw honey, gathered in northern Canada from fields of sweet red clover. Widely recognized as "the world's best honey", it is creamy and mild, and perfectly sweetens a cup of tea without altering the taste. We've also included a beautiful handcrafted olivewood honey dipper, perfect for drizzling honey in to tea, on cheese or even bread.
Your gift arrives exquisitely packaged in our natural sturdy jute tote, tied with a seasonal ribbon and decorative pick.
Ada's Artisan Tea - Organic White Rose Tea:
A delicate, beautiful organic white tea blended with lightly sweet pink rose petals. Each tin brews 7 cups of tea.
.5 oz.
Canadian White Gold Honey:
Pure, raw, unfiltered honey from sweet red clover harvested in Northern Canada.
14 oz. Berard - Handcrafted Olive Wood Honey Dipper: A long-handled dipper from a single piece of olive wood, with rich and unique coloring.
1 dipper.
JUTE TOTE BAG, 9"x11"x4"
.
SEE MORE