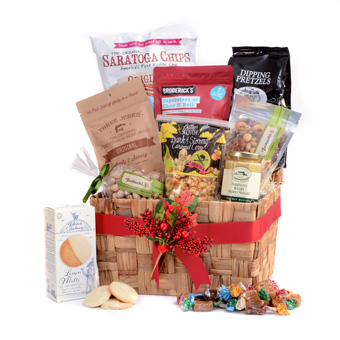 Enlarge Image
The Savory Pantry Sweet & Savory Snack Sampler
This gift is a whole lotta' fun.
A snacker's dream and a perfect gift to share, our woven hyacinth basket is loaded with sweet and savory treats from near and far. For our sweets fans, we've included Lemon Melts from Island Bakery Organics. This luscious cookie is handmade on the Isle of Mull from all organic ingredients - a crisp biscuit infused with lemon oil and dipped in white chocolate. Barry & Bernie Broderick of Dublin make yummy sweet things in a picturesque Irish locale. Their Superstars of Choc 'N Roll Sampler contains 7 wrapped mini bites of chocolate-y goodness - 2 Caramel Slice, 2 Tiffin, & 3 Rocky Road. Slow simmered, handmade caramels from Montana's Bequet Confections are irresistible, and 20 pieces in assorted flavors are included here.
Those who's tastes lean toward the savory side will appreciate a generous bag of Saratoga Chips. Saratoga is the birthplace of the iconic potato chip, and they've been made the same way since George Crum invented them back in 1853. Anything goes with the plump, salted dipping pretzels from East Shore Specialty Foods, and one of our favorites is the devilish, distinct Raspberry Wasabi Dipping Mustard from Robert Rothschild. Popcorn lovers will enjoy Dark & Stormy Caramel Corn from Brooklyn's Butter & Scotch, who have morphed the classic cocktail in to a fabulous snack made with Gosling's rum, lime zest and freshly grated ginger. Three Jerks Jerky sets a new standard for deliciousness. The California-based company crafts their jerky from filet mignon for a refined, artisanal snack. When it comes to nuts and nut mixes, nobody does it quite like Fastachi. We've included Cranberry Nut Mix - one-of-a-kind twist on a popular nut mix that leaves a tart and salty taste dancing on your tongue. Salted Pistachios are roasted to perfection and sprinkled with sea salt, completing this plentiful gourmet snack basket.
Island Bakery Organics - Lemon Melts
: From Scotland, a zesty lemon biscuit dipped in a sweet blanket of white chocolate.
5.3 oz.
Brodericks Brothers - Superstars of Choc 'N Roll Sampler
: A selection of 3 different mini-sized biscuits - the perfect chocolate-y bites for sharing.
7 biscuits
Béquet Confections - Assorted Caramels
: Handmade, award-winning caramels, made in Montana in flavors including Original Butter, Celtic Sea Salt, Salted Chocolate, Salted Mocha and Butterscotch.
20 caramels, 4 of each flavor.
Saratoga Chips - Original Potato Chips with Himalayan Sea Salt
: A great tasting, gluten free snack with a dusting of the most pure of salts on the planet.
8 oz.
East Shore - Dipping Pretzels
: Plump, salted pretzel sticks with a perfect crunch, ideal for dipping.
12 oz.
Robert Rothschild - Raspberry Wasabi Dipping Mustard
: A horseradish based condiment with a smooth, savory flavor. Ideal for dipping pretzels or as a devilish sandwich spread.
9.3 oz.
Butter & Scotch - Dark & Stormy Caramel Corn
: A new twist on a classic cocktail with Gosling's dark rum, fresh grated lime zest and ginger.
8 oz.
Three Jerks - Original Beef Jerky
: Handcrafted from filet mignon for a tender, buttery jerky with a sweet & tangy flavor and just the right amount of black pepper.
2 oz.
Fastachi - Cranberry Nut Mix
: An extraordinary version of a popular nut mix with chewy, crunchy texture and a tart, salty taste.
7 oz.
Fastachi - Salted Pistachios
: These tempting, plump California pistachios will delight the nut lover.
7 oz.
CONTAINER:
Extra Large Natural Hyacinth Flipbox, 12.5" x 9.5" x 7".
**A Note on Substitutions:
Because many of our items are made in very small batches and some are made to order, we may need to occasionally swap an out-of-stock item for a similar one. Be assured it will be of equal or greater value and equally delicious!
.
SEE MORE