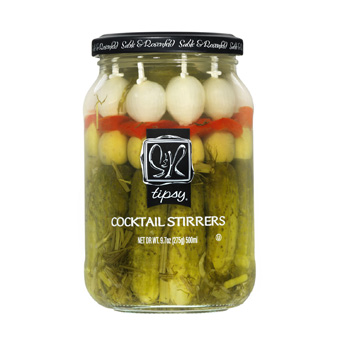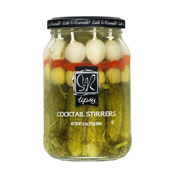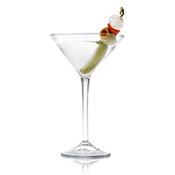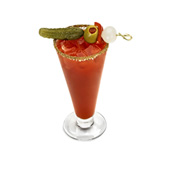 Tipsy Cocktail Stirrers
Sable & Rosenfeld
Weight: 9.7 oz
Out of Stock
SUMMARY
INGREDIENTS
THE STORY
Makes ordinary cocktails extraordinary
Great with Bloody Mary's or other cocktails
Garnish a relish tray, sandwich or cheese platter
Wrap a piece of prosciutto or salami around the skewer for an instant appetizer
The ultimate cocktail garnish! Each hand-packed skewer is made up of a crunchy pickle, green olive, a slice of red pepper and a pearl onion bathed in a subtle brine with just a hint of garlic and dill. A unique garnish for a Bloody Mary or Martini, they also make a great addition to a relish tray!
Gherkins, Water, Vinegar, Pearl onions, Green olives, Peppers, Garlic, Dillweed, Salt, Calcium chloride, Sulphites
For over 40 years Sable & Rosenfeld has created and distributed exceptional gourmet foods.

In the spring of 1970, Myra Sable began writing restaurant reviews for her local paper. During one of her interviews she met her future partner, Carol Rosenfeld. Both women loved to cook and entertain, and Sable & Rosenfeld was born. Their first branded product, Russian mustard, was an instant success, as Esquire Magazine featured it in their Christmas centerfold as the gift to give to men that year. Subsequently, Neiman Marcus came knocking and Sable & Rosenfeld's first real production began.

The creation of Sable & Rosenfeld's Tipsy Olives, Tipsy Onions and Tipsy Cherries, three of the most innovative cocktail garnishes of the 1980's, quickly took over the party scene, as martinis, manhattans and gimlets were back in fashion. As in demand today as they were then, Sable & Rosenfeld is known for their high quality, zestfully delicious and easy to use condiments for everyday living.
.
SEE MORE