Enlarge Image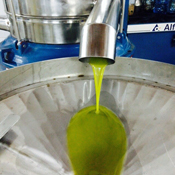 Titone D.O.P. Extra Virgin Olive Oil
Nicola and Antonella Titone
Weight: 16.9 fluid ounces
Out of Stock

Family Owned

Organic

Trapani, Sicily

Award Winning
SUMMARY
INGREDIENTS
THE STORY
RECIPES
Region: Trapani, Sicily
Filtered, Estate-Bottled
Olive cultivars: Nocellara de Belice, Biancollilla, and Cerasuola
Flavor: Medium to robust with a characteristic peppery finish
Harvest: Fall 2016
Certification: DOP Valli Trapanesi, Organic, Biologica

Produced organically in Sicily at "Valli Trapanesi", the family farm of the Titone family, this award-winning oil is a favorite year after year. This year's oil has a sparkling emerald green color with bright mirror effects, and aromas with green tomato and fresh herbs. As typical of the best Valli Trapanesi oils, you can count on a strong finish. A perfect oil for simply dressing vegetables and salads. Drizzle over ripe summer tomatoes and finish with a sprinkle of sea salt. Pour liberally over lentil soup, pasta, aged cheeses, and roasted red meat or game. We know you'll agree: this is a stunning oil.
100% Extra Virgin Olive Oil, D.O.P. Organic
Titone Extra Virgin Olive Oil Biologica is produced by the Titone family at the "Valli Trapanesi", the family farm near Trapani, on the western side of Sicily. The olive oil from the Titone farm is the product of the family's devotion to sustainable, traditional farming methods, and organic tending of the land.
Chemists for generations, the Titone family has always had a passion for olive growing and a particular attention for health. They have owned the farm since 1936, and have 19 hectares of specialize olive grove with 5,000 trees. The passion for understanding the land and growing their crop according to strict organic practices became a priority in 1985 when Nicola Titone began the process of certifying the farm. In 1995 they invested in new pressing equipment to ensure the quality of the oil and to make the process more efficient. The farm also takes great pride in their D.O.P. (Denominazione di Orgine Protetta/Protected Designation of Origin) status. Close to five thousand olive trees are pruned into either umbrella or low cones, which aid in pest control and even ripening of the olive fruit. The careful methods practiced by the Titone family show in the resulting fine oil quality. The supply of this oil is very limited.
.
SEE MORE