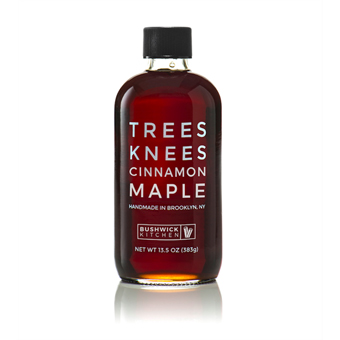 Enlarge Image
Trees Knees Cinnamon Maple Syrup
Bushwick Kitchen
Weight: 13.5 oz
Out of Stock

Family Owned

Brooklyn
SUMMARY
SUGGESTED USES
INGREDIENTS
This rich, beautiful maple syrup will make any pancake or waffle weep with gratitude. It's the cinnamon that sets it apart. Organic maple syrup from the Catskill mountains is combined with cassia cinnamon from Indonesia - just enough to add taste without overwhelming the flavor of the syrup. We've found a multitude of ways to enjoy it - each better than the next. Drizzle over pancakes, waffles, French toast or fresh fruit. Sweeten homemade granola. Stir in to yogurt. Or make one interesting batch of wings.
A nice addition to a cup of coffee or tea
Adds great and unexpected flavor to your next batch of wings
Drizzle over pancakes, waffles or French toast
Use to sweeten homemade granola
Delicious over vanilla ice cream
At the bar, a flavorful addition to an Old Fashioned
organic maple syrup, cassia cinnamon
.
SEE MORE