Enlarge Image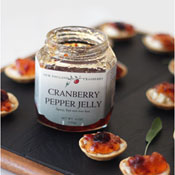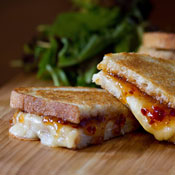 Cranberry Pepper Jelly
New England Cranberry
Weight: 12 oz

Gluten Free

Massachusetts
SUMMARY
SUGGESTED USES
INGREDIENTS
THE STORY
RECIPES
The rich culinary traditions of New England are alive and evident in this extraordinary Cranberry Pepper Jelly from the New England Cranberry Company. Delicious enough that we keep it in our pantry year-round, you simply cannot be without it during the holidays!


Gluten free
No artificial flavors or preservatives
The perfect mix of tartness and spice in a delightful pepper jelly.
A carefully blended combination of fresh New England cranberries and medium hot chilies from the American Southwest go into New England Cranberry Company's vibrant cranberry pepper jelly. Ideal for holiday entertaining, enjoy this savory jelly any time of year served over any soft cheese or brie for a great appetizer. It is also perfect when warmed and used as a glaze on grilled chicken, pork or beef.
A must have pepper jelly for holiday entertaining
Warm and use as a glaze for roasted pork, chicken or beef
Delicious spooned over cream cheese or baked brie and served with crackers as an appetizer
Add a little spice to a roasted turkey sandwich
Glaze salmon steak or fillet with cranberry pepper jelly for some sweet heat on the finish
Cranberries, Water, Vinegar, Red Peppers, Sugar, Pectin, Citric Acid
New England Cranberry was founded in Massachusetts in 1994 with the goal of creating innovative, natural, healthy and exciting cranberry products that made great use of the state's native crop.

Their first product, Colonial Cranberry Sauce, was developed from a recipe based in Colonial times -- well before additives and preservatives, and way before round cans at Thanksgiving became the way most people thought of cranberries!

The success of the cranberry sauce paved the way for the development of a broad line of delicious, versatile, all-natural cranberry products that today includes everything from cranberry chutney to cranberry pepper jelly!
.
SEE MORE