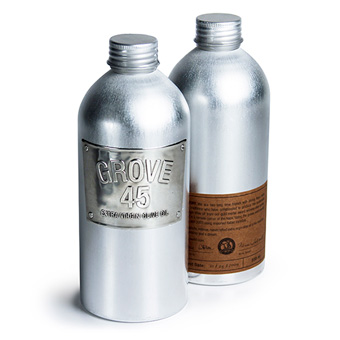 Enlarge Image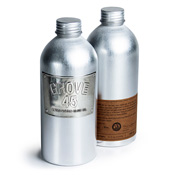 Grove 45 Extra Virgin Olive Oil
Nena Talcott & Bonnie Storm
Weight: 550 ml
Out of Stock

Family Owned

Gluten Free

Napa Valley, CA

Award Winning
SUMMARY
INGREDIENTS
THE STORY
RECIPES
Founders Bonnie Storm and Nena Talcott share over 45 years of Napa Valley farming experience.
Tuscan bare root olive trees were imported from Italy and planted in 1994.
Certified organic by the California Council of Organic Farmers (CCOF)
Annual recipient of the California Olive Oil Council (COOC) seal of approval.
Innovative and artful package has received several awards for design and sustainability.
A star among olive oils.
As far as we're concerned, the only thing better than Grove 45 olive oil are the people who make it. Long time friends Bonnie Storm and Nena Talcott have created an artisanal oil with flavors of fresh artichoke and green olives. Grove 45 is produced from organically certified groves in the Chiles Valley, on the eastern slopes of Napa County. Drizzle this jewel over almost anything - roasted vegetables, soups, salads, grilled fish. Our favorite way to enjoy Grove 45 EVOO? Over a rich chocolate sorbet with a sprinkling of fleur de sel. Sublime.
100% Extra Virgin Olive Oil
Grove 45 is a venture that started in 2009 when long time friends Nena Talcott and Bonnie Storm agreed to go into business together. Between them they had 45 years of farming experience and had both produced gold medal award winning extra virgin olive oils under different labels. Nena had sold her vineyards and groves in 2006 and she missed being involved in the farming community. Bonnie was getting tired of doing all of the work on her own and was ready to consider shutting down her operation. Fortunately, after a discussion one afternoon, Grove 45 was born.
The groves are located on Bonnie's ranch in a remote corner of the Napa Valley. The trees are all Italian varieties that Bonnie imported from Italy in 1994. The business partners are involved in every aspect of the oil production from driving the tractor to selling and delivering Grove 45 EVOO.
To showcase the excellent quality of Grove 45 EVOO, Nena and Bonnie wanted a package that would be distinctive. They chose a brushed aluminum bottle with an embossed pewter label that the pair apply by hand. They also decided to name their new oil after the year they were born, 1945. In the year Nena and Bonnie began collecting Social Security and became eligible for Medicare, their new venture took shape.
Grove 45 is the proud recipient of the California Olive Oil Council Seal of Excellence.
.
SEE MORE