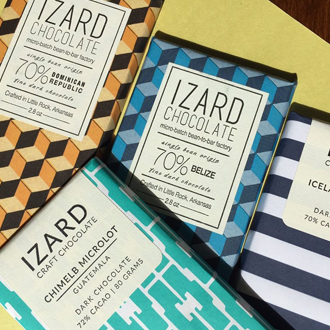 Izard Chocolate Tasting in Hot Springs
214 Central Avenue | Hot Springs, AR 71901
Saturday, April 21st | 9:00 AM - 2:00 PM
Nathaniel Izard of Izard Chocolate will be in our Hot Springs store on Saturday, April 21st sampling his handcrafted chocolates. As Arkansas' only craft chocolate, you won't want to miss this opportunity to support a local artisan who is adding much value to the Arkansas food scene.
Little Rock's first chocolate making company creates bean-to-bar dark chocolates wrapped in artful papers. Nathaniel Izard buys organic and finely flavored cacao above Fair Trade standards, incorporating local ingredients as often as possible. Relying on the highest quality single-estate cacao beans, organic cane sugar, and vanilla beans, only these three ingredients are necessary to yield a masterfully flavorful chocolate experience. All passion and energies are poured into four bars—choose from Dominican Republic or Guatemalan Estate Bars, the California Almond Bar, or the Icelandic Sea Salt Bar featuring salt from Reykjavic.
Following an unforgettable cultural experience in Italy, Nathaniel Izard was inspired to deepen his culinary hobby of chocolate making in his own kitchen into a thriving entrepreneurial enterprise. After his smooth, memorable chocolate became an instant success at local farmers' markets, it was a natural transition to offer bars to a wider audience of chocolate lovers. In two short years, this chocolate newcomer has already made the pages of Garden & Gun as one of its "five boutique Southern chocolate shops we love". If you visit Little Rock, learn about the chocolate-making process, origins of beans, and tastes at Izard's stylish shop in the historic Hillcrest Neighborhood.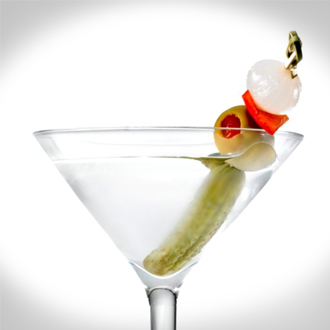 March Martini Madness with UPH at Savory Pantry
486 Broadway, Saratoga Springs, New York 12866
Friday, March 23 at 5:30 PM - 8:00 PM
Please join us as we welcome Spring with food, drink, and friends — all to celebrate and support the renovation of Universal Preservation Hall, the latest jewel in Saratoga's crown. 20% of all sales from the evening and weekend will benefit UPH.
Executive Chef Zach Cutler will work his magic with The Savory Pantry's legendary Arkansas Peppered Ham — a perfect center- piece for your Easter table that showcases our Southern roots — along with an assortment of appetizers to salute the flavors of the season. We'll be shaking up classic martinis featuring Pick Six Vodka as well as chocolate martinis prepared especially for the evening by Chef Cutler. Behind the scenes, the Easter Bunny will be hard at work preparing gift baskets filled with gourmet goodies to give and receive.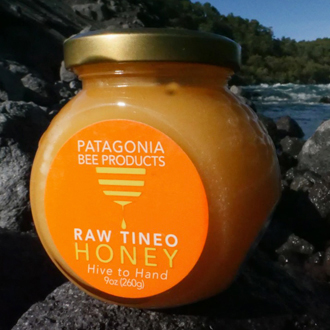 A Celebration of Honey with Patagonia Bee
214 Central Avenue, Hot Springs, AR
Saturday, February 17th 9:30AM - 4:00PM
and Sunday, February 18th 9:30AM - 3:00PM
The Savory Pantry will host Jacob Perry, founder of Patagonia Bee Products at The Savory Pantry, 214 Central Avenue on Saturday, Feb 17th & Sunday, Feb 18th.
Customers can enjoy "Hive to Hand" honey samplings and enter to win a Patagonia Honey Trio Gift Box, valued at $45!
Jacob will be sampling his honeys with an assortment of cheeses, crackers, and fruit.
When native Arkansan Jacob Perry traveled to South America for a backpacking trip, he was captivated by honey unlike any he'd ever tasted. Honey imbues flavors and aromas from the flowering trees visited by the bees that make it, imparting luscious floral properties into the honey. Since the hives that yield Ulmo, Tineo, Rainforest, and Valdivian honeys border the native, largely untouched rainforests of Chile, a taste instantly transports you to the only place in the world these honeys are found. Perry launched Patagonia Bee Products to share geographically unique "hive to hand" honeys with the world. In the process, Patagonia Bee Products would be the impetus for the revision of Chilean law to better support the livelihoods of small beekeepers and food producers, as well as providing economically sustainable support for rain forests. Each jar comes from a single beekeeper, preserving the uniqueness of a place and a harvest season, and is regularly tested to ensure it remains entirely free of GMOs and pesticides. You'll be hard-pressed to find honey more delicious and pure. "We are thrilled to welcome back Jacob to Hot Springs," states Savory Pantry owner Keeley DeSalvo. "This is a rare opportunity to taste the magic of Patagonia, right here on Central Avenue! You'll discover the nuances between the different varietals, and learn from an expert the amount of effort and passion that goes into each and every jar."