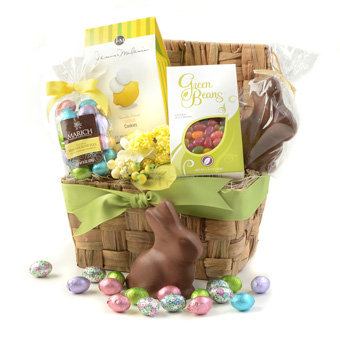 Enlarge Image
Bunny Love Easter Gift
SUMMARY
CONTENTS
SHIPPING
Make some bunny happy.
You're sure to see a smile on Easter morning when you give this charming basket nested with spring-time treats! Lemon tea cookies, all-natural jelly beans, a generous bag of festively wrapped milk chocolate foil eggs and a chocolate bunny will get this special day off to a perfect start.
EMVI Chocolates - Chocolate Bunny:
This precious semi-solid bunny is handcrafted from premium chocolate in upstate New York. Please specify milk or dark chocolate.
5 oz.
J & M Foods - Lemon Tea Cookies:
Tart, citrusy cookies dusted with powdered sugar - the perfect bite for lemon lovers!
2.5 oz.
Marich Confectionery - Foil Wrapped Milk Chocolate Easter Eggs:
Premium, silky milk chocolate eggs wrapped in vibrant foils.
7 oz., approximately 30 eggs
Marich Confectionery - All-Natural Green Bean Jelly Beans:
Made with fruit juice concentrates and colored with natural fruit and vegetable extracts for a pure, delicious treat!
5 oz.
CONTAINER:
Medium Natural Hyacinth Basket, 9" x 6" x 5"
This item is sensitive to heat and should not be in transit for more than 2 days during periods of warm weather - typically April 15 to October 15, or when shipping to a hot destination. When estimating days in transit, please exclude shipping date and weekend days. Heat sensitive orders placed after 12:00 pm CST on Wednesday will be held for shipment until the following Monday.
Questions? Call us toll-free: 877-426-4887
.
SEE MORE