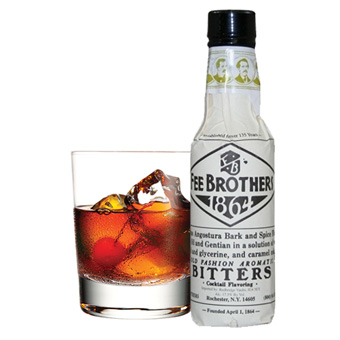 Enlarge Image
Fee Brothers Old Fashion Aromatic Bitters
Weight: 5 fluid ounces
SUMMARY
INGREDIENTS
THE STORY
Made with Angostura bark
Hints of cinnamon and allspice
An essential bar ingredient
A cocktail renaissance is sweeping across the country, spawning a new fascination with artisan ingredients and mixers. Rochester-based Fee Brothers, makers of aromatic bitters since 1863, provides cocktail enthusiasts with a line of flavored bitters designed to inspire!
With hints of cinnamon and allspice, Fee Brothers Old Fashion Bitters is made with Angostura bark, citrus oils and other spices for an essential bar ingredient. Use in Manhattans, Old Fashioneds, Planter's Punch and other cocktails.
INGREDIENTS:

Prepared from water, glycerin, spice flavors, citrus oil, gentian, caramel color, FD&C Red #40 and FD&C Yellow #6
A family business since 1864, Rochester, New York based Fee Brothers is now owned and operated by Ellen and Joe Fee, the fourth generation. Furthering their family's legacy, Ellen and Joe manufacture close to 100 cocktail mixers, bitters and syrups designed to craft exceptional cocktails.
.
SEE MORE