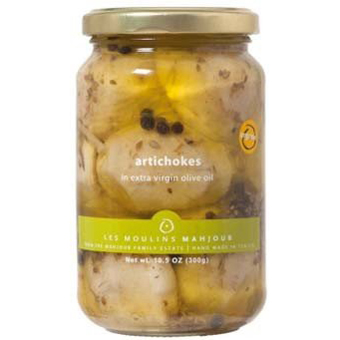 Mahjoub Organic Artichokes in Extra Virgin Olive Oil
Les Moulins Mahjoub

Family Owned

Organic

Tunisia
SUMMARY
INGREDIENTS
THE STORY
Les Moulins Mahjoub company has developed a range of products based on the traditional food preservation techniques of the Mediterranean. Updated and scrupulously controlled, today's production techniques use the same two natural allies as they did in the past: extra virgin olive oil and sea salt, not forgetting … the sun.
Full flavored and firm, Mahjoub's organic artichoke hearts are perfectly preserved in extra virgin olive oil, and seasoned with organically produced peppercorns & herbs. Stunning in salads, pasta dishes, or served as antipasti.
Artichokes*, Extra Virgin Olive Oil*, Salt, Garlic*, Pepper*, Vinegar*, Thyme*, Laurel*, Clove*
*Organically Produced
Les Moulins Mahjoub is a fourth generation owned and operated family company located in the fertile Mejerda Valley of North Central Tunisia.
Heir to a rich agricultural tradition, Les Moulins Mahjoub company, based in Tebourba, produces a range of traditional Mediterranean products. Tebourba is one of a few towns in Tunisia whose population has a quite special original character. It is composed almost entirely of descendants of the Moors driven out of Andalucía who settled on the site of the old Tuburbum Minus, on the left bank of the Medjerda.
The district of Tebourba is rich and fertile. It produces large amounts of cereals; there are abundant crops of olives, market gardening (truck farming) is highly developed and very varied.
Exceptionally good soil and growing methods that respect the natural and biological balances of nature, combined with the use of traditional farming methods and hand processing techniques, enable Les Moulins Mahjoub 'haute couture' products to be made, meeting the most stringent quality standards.
All Mahjoub products are produced with no additives or artificial processes.
.
SEE MORE