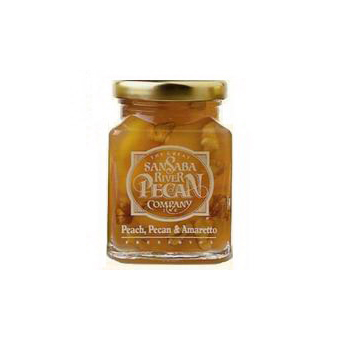 Ratings & Reviews
Amazing!
Nov 21, 2014 | By Jessica





I love this! It is probably one of my favorite items I have ever purchased.
WOW!
Jul 10, 2013 | By Ed Herbert





Peaches Pecans and Amaretto is outstanding on toast, on crackers, on waffles, on just about everything! Outstanding product we found when vacationing in Hilton Head. Love it!
Peach Pecan Amaretto Preserves
The Great San Saba River Pecan Company
Weight: 11 oz

Family Owned

San Saba, Texas
SUMMARY
SUGGESTED USES
INGREDIENTS
THE STORY
From deep in the heart of Texas come incredible fruit preserves produced by the San Saba River Pecan Company. Made in small batches with juicy ripe peaches and glorious San Saba pecans, they are made even more special with the addition of amaretto. One food critic writes, "Not To Be Preserved, But Eaten Immediately". We absolutely agree! The trio of flavors meld into the perfect preserve for breakfast breads, pancakes and waffles, and vanilla ice cream.
As the perfect topping for your morning breakfast breads, including toast, biscuits, English muffins, scones, or bran muffins
Delicious when topping pancakes or waffles
Mix into fresh fruit salad
Garnish pound cake, cheesecake, or vanilla ice cream with Peach Pecan Amaretto Preserves
Use as an ingredient in glazes for poultry
Add amazing flavor to baked sweet potatoes
Peaches, Sugar, Pecans, Lemon juice, Pectin, Ascorbic acid (to retain color), Amaretto flavoring
Approximately 10,000 pecan trees grow in a park-like setting bounded by the San Saba River and located in the Hill Country of Central Texas. All of the San Saba River Pecan Company's award-winning gourmet products are produced and shipped from facilities housed within the orchard.

In the early 1870's, Edmond E. Risien, an amateur horticulturalist, arrived in San Saba County from England. He found a light-colored, thin-shelled pecan which he named San Saba. At the confluence of the Colorado and San Saba rivers, he set out an orchard of 600 trees, using this nut as seed. He waited 12-14 years for the trees to bear fruit. Then, by a process of cross-pollination and selection, he gave the industry such pecan varieties as Onliwon, Squirrels Delight, San Saba Improved, and Western Schley. San Saba claims the title "Pecan Capital of the World".

Pecans are indigenous to San Saba County and have been a cash crop since as early as 1857. Possibly some of the trees were growing here when Columbus came to America. Normal production for San Saba County is two to five million pounds of pecans per year.
.
SEE MORE